We're proud to announce we have been voted as the Best Importer in the Furniture News Readers Choice Awards! This award means a lot to us as we have been working tirelessly to continue to offer the same high quality Bluebone products, whilst adapting to the ever-changing climate.
Sales Manager Elaine commented:
"It has certainly been a journey, with increasing obstacles being posed to importers on a daily basis. We have weathered Covid, Brexit, the freight prices and now the war in Ukraine, and with no easy fix in sight, we have had to adapt as importers. It is lovely to receive this affirmation that we are still providing the same high level of product and service despite the challenges."
How we have adapted
We rapidly realised that while the nature of our product should not be impacted, the method of moving it from A to B would have to adapt.
We have focussed on design, and in particular how a design could be packed into a box. Several of our most popular pieces became too expensive to ship, so we set about re-designing them – could they be made K/D without compromising the design and quality?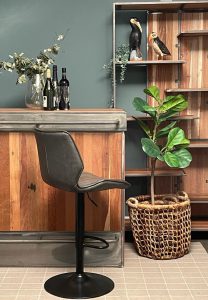 A perfect example is the new DWELL range, featuring a bar and etagere bookcase made from reclaimed teak and metal. Essentially, they are a re-work of the KLEO boatwood pieces, made instead from village teak, recycled from old timber buildings, and packed completely flat.
We have also looked at how many products we can fit into a container, and by extending our range of homewares, accessories and small pieces of furniture, we can make sure that every inch of shipping space is utilised.
Autumn 2022 will see new beaded chandeliers, bold new wall art, quirky antique pieces and of course more painted birds.
Our sourcing for next year will be a voyage of discovery – we have found new places to source, opening up a wealth of product potential, and we will explore new and exciting furniture and homeware categories, with soft furnishings, lighting and upholstery all in development for next year.
The Bluebone signature will always be present, a modern rustic style for easy living, with a flair for design details and quality of build.